Altria: Better, But Keep Waiting
Altria (NYSE:MO) has long been a beloved dividend growth company for those that can look past the moral issues with investing in "sin" stocks. In its various forms Altria has rewarded investors with 46 consecutive years of dividend increases including an 8.0% boost at the end of August.
The share price of Altria has been a boon to investors over the last year for multiple reasons. The stability of the company, investors being starved for yield, a concentration on U.S. focused companies due to the strength of the greenback. Whatever the reason the share price had climbed over 30% over the past year.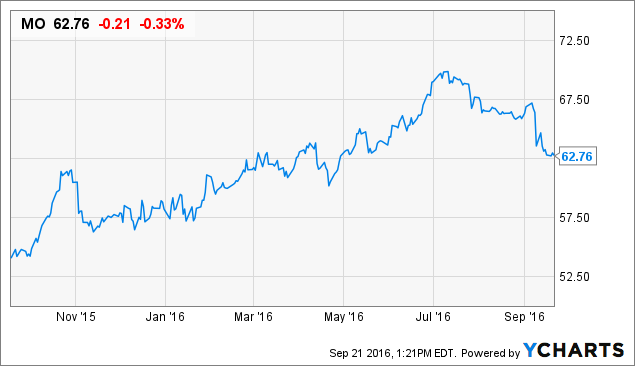 However, since peaking in early July the share price has pulled back around 10% to the low $60's. The share price decline coupled with the dividend increase bumped the starting yield up to 3.84%. Seeing that large of a decline from a stalwart company such as Altria got me interested in wondering what you can expect from Altria if you purchased shares today.
Continue reading the article on Seeking Alpha.