Medtronic: Double-Digit Return Potential Is In Sight
Medtronic (MDT) is a business that I've owned since 2012 and that I have no complaints about the returns the business has generated for me with a 14.7% IRR since my first investment. Unfortunately, I only added in size a few weeks after my initial purchase and have stayed away since then to the detriment of my portfolio returns.
One of my goals for 2020 was to focus on building up my positions rather than increasing the number of positions and I would have been much better served doing that in prior years. The likely reason that I neglected to further add to my Medtronic position is the pervasive anchoring bias that my lizard brain has to fight.
The health care sector is very attractive to me due to the fact that every one on the planet is a willing customer. Couple that with the aging population, especially in the developed economies, along with the increase in spending associated with living longer as well as the rising global population and there's a lot of tailwinds at play for the sector in general.
Dividend History
The investment strategy that I gravitated towards most when I first began investing was dividend growth investing. In adopting that strategy, I want to focus the majority of my investment capital into businesses that have a history of paying and growing their dividend payouts over time.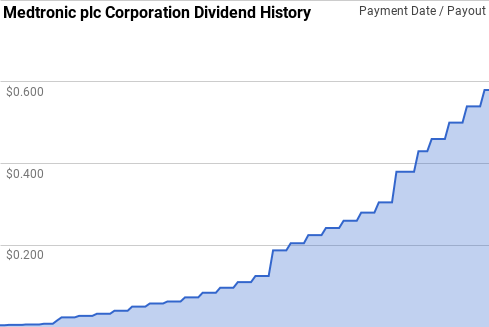 Image by author; data source Medtronic Investor Relations
According to the CCC list, Medtronic is a Dividend Champion with 43 consecutive years of dividend growth. That means every year dating back to 1978, Medtronic has been there raising their payout to shareholders throughout all sorts of political and economic cycles.