Making Green With Scotts Miracle-Gro
Scotts Miracle-Gro (SMG) is most well-known for their various lawn care products. Just a few months ago I went to pick up some Scotts fertilizer for our own yard and was surprised to see the bag ring up at nearly $50. While the sticker shock was a surprise there wasn't much of an option unless I wanted to go with another brand that I had never heard of.
As a company whose products I use a few times throughout the year, I wanted to take a look at this dividend grower to see if it makes sense for my portfolio.
Dividend History
When I began my investing journey I gravitated towards the dividend growth strategy which is based on identifying quality companies with a history of, and likelihood to continue, paying and growing dividend payments year in and year out.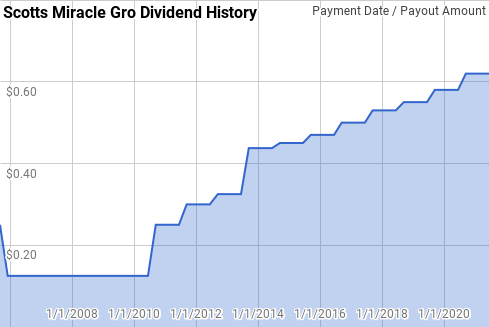 Image by author; data source Scotts Miracle-Gro Investor Relations
Scotts' dividend growth streak began in 2009 although they've paid the same or higher annual dividends since 2005. In addition to the annual dividend growth Scotts has also paid out 3 special dividends during that time ($8.00 in 2007, $2.00 in 2014 and $5.00 in 2020).