Leggett & Platt: An Interesting Opportunity For Dividend Growth Investors
Leggett & Platt (LEG), referred to as L&P moving forward, was founded in 1883 and has a rich history of rewarding shareholders with higher dividends despite operating in the boring industry of furniture and other furnishings.
L&P represented a great opportunity in the depths of the crash in March 2020. The share price fell nearly 60% from its peak pushing the forward dividend yield up over 7% for a period of time and the TTM free cash flow yield north of 16%. Granted there's a lot of hindsight bias in that as the share price has rebounded considerably as things stabilized throughout the year. That being said the insolvency risk appears to have been quite low and opportunities like that don't come around too often for companies with a 50 year dividend growth streak.
Dividend History
The dividend growth investing strategy is the one that I gravitated towards when I began investing nearly 10 years ago. The concept is simple: focus on quality companies with a history of paying and growing their dividends every year and don't pay too much.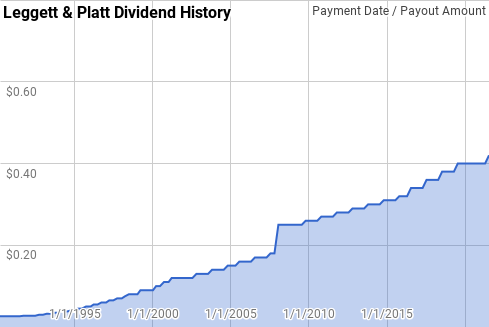 Image source: author; data source: Leggett & Platt Investor Relations
L&P is a Dividend Champion with 50 consecutive years of dividend growth which is an amazing accomplishment and dates back to 1971. That covers just about every economic environment you can think of: from stagflation in the 1970s and multiple recessions as well as 2020's global pandemic.