Hormel Foods: Dividends That Last Forever, Just Like SPAM
While just about everyone would recognize Spam which is likely Hormel Foods' (NYSE:HRL) most widely known product, they are much more than just a canned ham company. Over the last decade Hormel has been transitioning their business to include healthier snacking and food options by acquiring brands such as Justin's Nut Butter, Applegate, Wholly Guacamole and Planters.
Consumer packaged foods isn't exactly the most innovative and cutting edge industry out there; however, Hormel has amazingly generated 15% of revenues from products or brands that are less than 5 years old.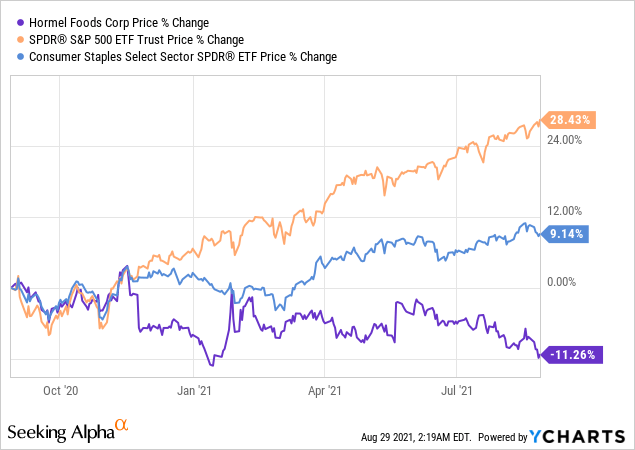 Hormel's share price is down 11% over the last year significantly lagging behind both the Consumer Staples SPDR (NYSEARCA:XLP) and the S&P 500 via (NYSEARCA:SPY). that underperformance has improved the price to value relationship for Hormel making it much more attractive than before.
Dividend History
The majority of my assets are invested in so-called dividend growth companies. While a lengthy history of growing a dividend is not a cure-all to limit loss from an investment I do believe that it helps to narrow down the investment possibilities into ones that are likely high quality. Plus who doesn't like to get a little bit extra income every year.