Sherwin Williams: A Compounding Machine With A Rich Valuation
Sherwin Williams (NYSE:SHW) benefitted greatly in 2020 as more people were home with time on their hands due to the various lockdown measures that were implemented to soften the blow of the pandemic. That led to plenty of DIY for those idle hands, I myself painted a bathroom, our fence, and a handful of DIY projects, as well as remodels that increased demand for Sherwin Williams' paints.
Aside from the namesake Sherwin Williams brand they also own the Dutch Boy, Krylon, and Minwax brands as well as others. For my various projects last year and earlier this year I used at least 2 of Sherwin Williams' products on many of them from paints, stains and sealers.
Sherwin Williams and their network of stores gives them an advantage amongst professional painters that need the paint now or the next day, not in a week, in order to complete their jobs. Their store count is quickly approaching 4,800 with plans to further expand their footprint.
Dividend History
The dividend growth strategy is very straightforward and one that made the most sense to me when I began investing my own capital years ago. The strategy boils down to find great businesses that generate plenty of excess cash flow and that have a history of sharing that excess cash flow with investors.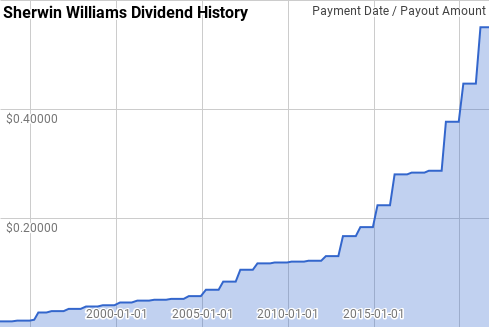 Image by author; data source Sherwin Williams Investor Relations
According to the CCC list, Sherwin Williams has a 43 year streak of annual dividend growth which dates back to 1978. The eyeball test on the above chart shows that Sherwin Williams' dividend growth fluctuates quite a bit with periods of rapid growth and slow growth; however, every year raises have arrived and growth over longer periods has been more than adequate.