Analog Devices: Attractive Risk/Reward From Current Levels $ADI
Analog Devices (NASDAQ:ADI) is a diversified semiconductor company with end markets ranging from industrial, automotive, communications and consumer. Analog Devices has a diverse customer base with over 125k customers with none representing more than 5% of revenue.
With highly technical semiconductors Analog Devices is able to foster long-term partnerships with their customers as they aim to solve their own technical challenges. Those long-term partnerships help lead to very sticky revenue sources.
While you might expect that Analog Devices would have short product lifetimes, they actually have over 75K SKUs that have an average product life greater than 10 years.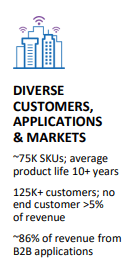 Analog Devices is poised to capitalize on the continued digitization of nearly everything. Analog Devices holds the number one position in analog, mixed signal, and RF and the number two position in power management.
Dividend History
The dividend growth strategy is the one that most appealed to me when I began my investment journey. While I prefer to target companies in the so-called "sweet spot" with 2.5% to 4.0% current yield and annual growth in the 6% to 10% range, I also realize that growth is a critical component to this strategy and try to balance out the portfolio with lower starting yields but faster growth opportunities.