Paychex: Boring Is Beautiful
Paychex (PAYX) was founded in 1971 and focuses on payroll solutions, human resources and benefits outsourcing for small to medium-sized businesses. The business is fairly sticky once clients are brought into the Paychex ecosystem due to high switching costs pertaining to payroll needing to be right and on time. Once a business gets brought in the risk of switching to a different provider is high due to not wanting to upset their employees with inaccurate paychecks.
It's been nearly a year since I last analyzed and initiated a position in Paychex so it's time to take another look at what I believe is an excellent company. When I last examined the business the business appeared on the high side of fair value and since that time shares have delivered a paltry 2.05% return.
Dividend History
The majority of my capital is invested in companies that have a history of paying and growing their dividend payments. That means I'm primarily invested in established businesses that generate ample cash flow, some of which can be passed on to shareholders via dividends. A lengthy dividend growth streak is far from a guarantee that the business will continue on in the future; however, I do believe that it helps to weed out some of the potential pitfalls that are out there.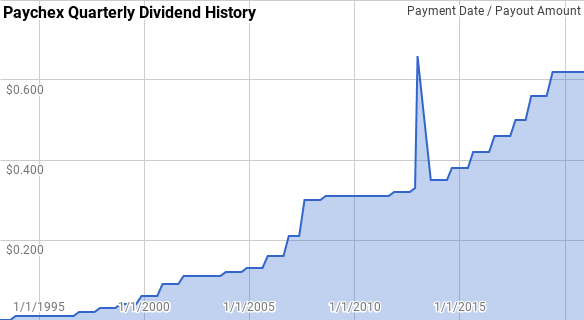 Image by author; data source Paychex Investor Relations
Paychex is a Dividend Contender with 10 consecutive years of dividend growth. Their streak had been longer; however, growth was paused during the Great Recession in 2007-09. While I want to see the businesses I own grow their dividends each and every year, I am a bit more tolerant of freezes of dividend growth especially given the severity of the situation during that time coupled with Paychex's aggressive cash return policy as can be seen later with their elevated payout ratios.