The Hershey Company: An Indulgence For Investors And Consumers
The consumer staples sector has traditionally been ripe hunting ground for the dividend growth focused investor. Reason being that most consumer staples businesses deal with products that are consumed in short order once they are purchased, which leads to frequent repeat purchases.
The Hershey Company (HSY) is no stranger to the small, repeat purchase business model. The namesake brand of Hershey Kisses and Hershey bars have long fueled the business as more confectionaries were purchased year after year. That strong cash generation allowed them to purchase one of my favorite sweet candies, Reese's.
With plenty of strong and recognizable brands, consumers continue to come back for more of Hershey's products.
Dividend History
The majority of my investments fall into the dividend growth investment strategy. That means that I want to invest in what I believe are high quality businesses that generate excess cash flow that can then be returned to owners via a rising dividend.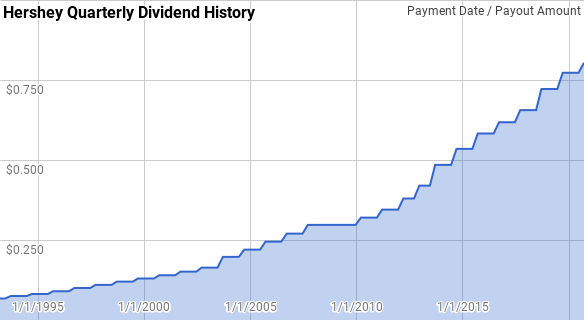 Image by author; data source The Hershey Company Investor Relations
Hershey is a Dividend Contender with 11 consecutive years of dividend growth. Its streak of paying the same or higher dividend dates back to at least 1993 with a 10 quarter pause across the 2007-09 period.