Accenture: Problem Solver For Global Business
Accenture (ACN) is an IT consulting and outsourcing powerhouse with client companies across just about every sector imaginable. With the ongoing transition to the cloud, management has been focusing on cloud integration with partnerships with Microsoft (MSFT), Oracle (ORCL), Amazon (AMZN), Alibaba (BABA), Google (GOOG, GOOGL) and many others.
The company's client base includes more than 75% of the Fortune Global 500, and 97 of the top 100 clients have been partnered with it for over 10 years. The technical side of Accenture's business is obviously important; however, the real strength is built on their client relationships and being the go-to solutions provider.
Dividend History
Dividend growth investing is the investment strategy that resonated most with me when I began my investing journey. By adopting that strategy, it means that I want to focus my capital on what I perceive to be quality businesses and that have a history of both paying and growing their dividend payments over time.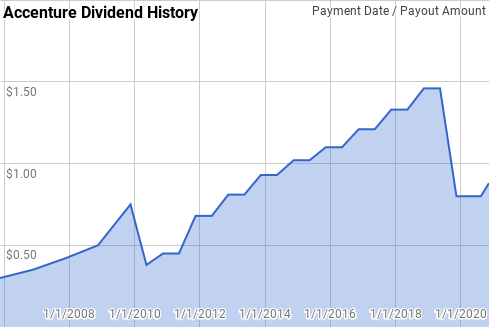 Image by author; Data source: Accenture Investor Relations
Accenture's dividend history chart looks a bit muddled, but that's due to the company swapping from annual payouts to semi-annual payouts, and most recently, to quarterly payouts. Its dividend growth streak based on fiscal years sits at 10 including FY 2021's estimated dividends.