Intercontinental Exchange: Attractive Business At A Reasonable Price
The various financial product exchanges is an industry that I've been liking more and more recently. By being the go-to marketplace for a specific product the business makes a small portion on the product itself, but the more intriguing part of the business is the adjacent business lines specifically in providing market data services which is highly recurring. The businesses are also somewhat anti-fragile in that the business typically sees growth in volumes traded when the end markets see increased volatility.
Intercontinental Exchange (ICE), referred to as ICE moving forward, is just one such exchange that looks intriguing. ICE has handily beat the S&P 500 over the last decade delivering 362% total growth in share price compared to just 194% for the S&P 500 ETF (SPY).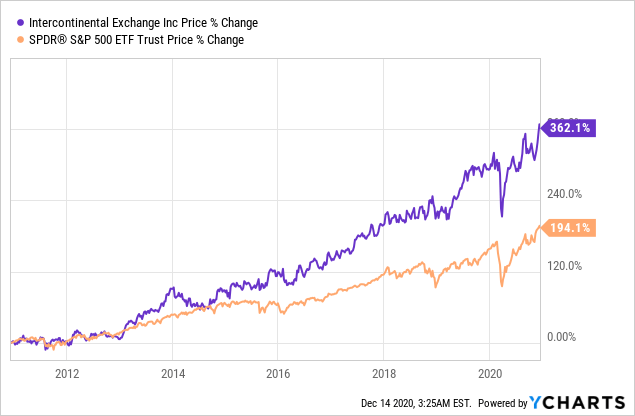 As of 3Q 2020 ICE was organized into 2 segments: (1) Trading & Clearing and (2) Data & Listings. Trading & Clearing accounted for ~53% of YTD FY 2020 revenues with Data & Listings accounting for the other ~47%. Starting in 4Q 2020, ICE will be organized into 3 segments now that the Ellie Mae acquisition is completed. The three segments will be: (1) Exchanges, (2) Fixed Income & Data Services, and (3) Mortgage Technology with segment revenue breakdown of 55%, 28% and 17%, respectively, through the end of September 2020.
Dividend History
Dividend growth investing is about finding businesses that have a history of both paying and growing their dividend payment over time. The idea is to find what you believe is a quality business that will continue to reward owners with higher dividends in the future.