CME Group: Monopoly Like Business Model, But A Rich Valuation
CME Group (CME) is a leader in equity index, currency, interest rate and commodities futures and derivatives. What I like about the business is the fact that once an exchange establishes liquidity they become the de-facto place to trade those products through network effects. They've effectively become the marketplace to hedge risk for businesses and investors alike.
CME Group's revenues are highly dependent on trading volumes across their various products. Clearing and transaction revenues have regularly been between 80-85% of revenues compared to just 10% for their market data and information services segment.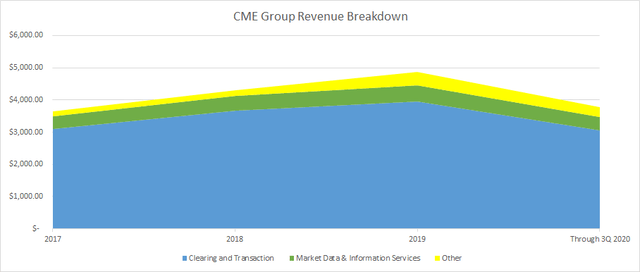 Image by author; data source CME Group SEC filings
Dividend History
Dividend growth investing is the strategy that appealed most to me when I began my investment journey. The idea is to focus on high quality businesses that have a propensity to pay and grow dividends over time and to focus on the underlying business rather than whatever Mr. Market deems the value to be at the time.