MSCI: Wide Moat Business, But A Lost Decade Could Be In Store
MSCI, Inc. (NYSE:MSCI) is well known in the investment world through the number of indexes and benchmarks that it's created. MSCI has benefited greatly from the continued increase in passive investing and the various ETFs that have been created to track a specific sector, sub-sector, region or country.
MSCI generates revenues from index subscription, licensing and asset-based fees. It also provides data and risk and portfolio management analytics software to asset managers and owners. The index segment is by far the powerhouse of MSCI, generating ~60% of revenues and ~80% of operating profits.
MSCI has been ramping up the ratings segment related to ESG, environmental, social and governance, as well as creating additional indexes and benchmarks. The ESG component falls into the other segment of MSCI, and while the other segment only accounts for roughly 10% of revenues, ESG has seen rapid growth as further adoption and focus on the role of ESG factors has come into favor.
Dividend History
In my approach to dividend growth investing, I try to balance out the mix of high current yield and lower growing business with ones that might have a lower current yield but much higher growth expectations. This allows me to generate a reasonably high dividend income now while also playing the longer-term investment game through dividend growth.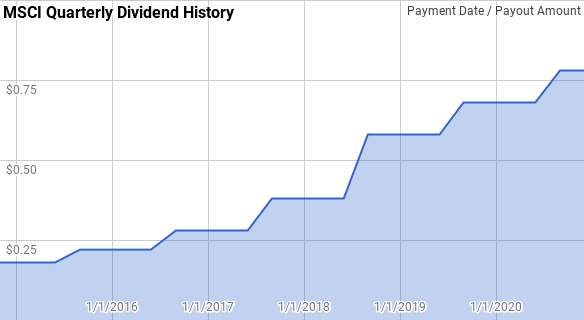 Image by author; data source MSCI Investor Relations