Stryker Corporation: Waiting On A Pullback
Stryker Corporation (SYK) is a leader in the med-tech space with three operating segments (1) Orthopedics, (2) MedSurg and (3) Neurotechnology and Spine. In Q3 2020, Stryker returned to year-over-year growth after the COVID-19 disruptions and revenues for Q3 were split fairly evenly between the three segments.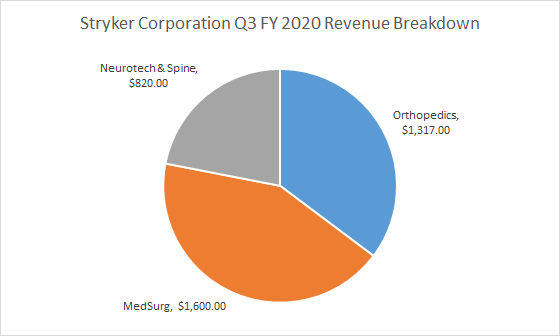 Image by author; data source Stryker Corporation's Q3 FY 2020 earnings release
Stryker benefits from the intangible assets of its relationships with various hospital operations and surgeons along with significant switching costs. Once Stryker is able to get surgeons within a hospital affiliation trained on the Mako surgical robot system there's a huge opportunity cost to switching to other robotic surgery systems due to the lost time for training. That's a big factor in why surgeons typically stick with their preferred vendors for greater than 15 years.
Dividend History
When I began my foray into investing on my own, the broad strategy that appealed most to me was dividend growth investing. The general idea behind the strategy is to find good businesses that have a history of, and ability to continue, paying and growing their dividends.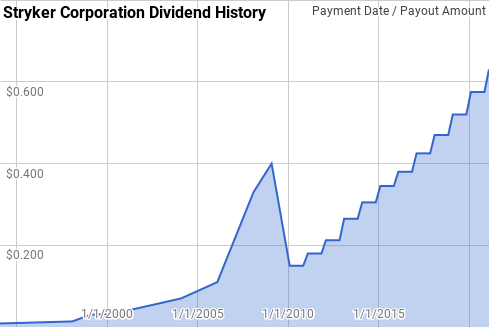 Image by author; data source Stryker Corporation Investor Relations