McDonald's: No Better Than A Hold



McDonald's (
MCD
) has long been a leader in the quick serve restaurant space. While there isn't anything particularly special about their food, the consistency between stores and the franchise business model for restaurants was perfected by Ray Kroc. McDonald's has grown into over 39k restaurants spread out across the world.
It's now been over 10 years since I first purchase shares in McDonald's and I'm more than happy with my investment. With the calendar turning over to a new year it was time to check in on the business and update my valuation to see if McDonald's position in my portfolio deserves to be increased.
Dividend History
The majority of my investment capital is invested into what is referred to as dividend growth stocks. Businesses that have a history of paying and increasing their dividend payment year after year are more likely to be quality companies that one can sleep well at night while owning. Another aspect about dividend growth stocks is that dividends are always a positive and much more reliable source of return over a given year than the much more fickle capital gains which are dependent on market sentiment rather than business fundamentals over shorter periods.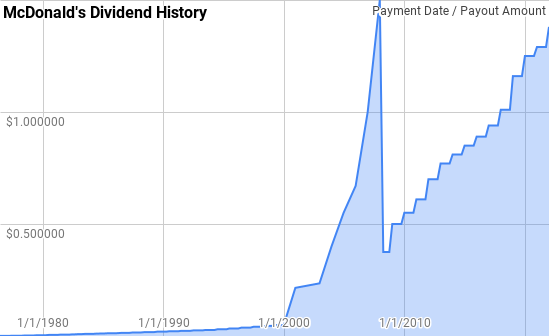 McDonald's has an impressive streak of annual pay raises that has now reached 46 years. While it appears that McDonald's announced a dividend cut in the late 2000's it was just a switch from an 8 year flirtation with annual dividends from 2008 through 2007 and then a return back to quarterly payouts resuming in 2008.