United Parcel Service: Continues To Deliver The Goods, Now Show Me The Dividend Growth
As we all learned over the last few years, home delivery of goods is critical and has been taking more share over traditional in-store purchasing. Spurred by the lockdowns and a fear of the unknown surrounding the pandemic, United Parcel Service (UPS) proved just how critical the business is to global commerce.
UPS operates in three segments: Domestic package delivery, International package delivery, and supply chain solutions.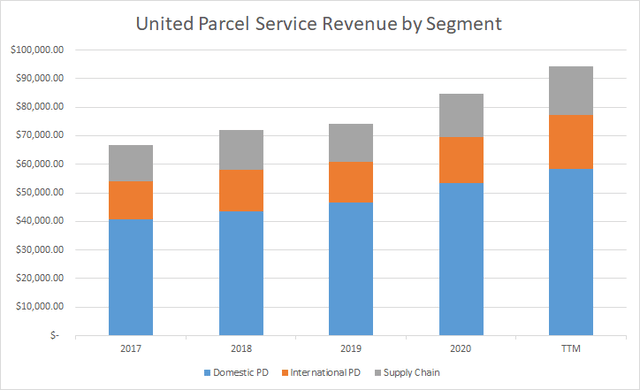 Source: Author; Data Source: United Parcel Services SEC filings
The TTM period shows impressive growth compared to FY 2020 of 9.1%, 18.6%, and 12.8% across each segment resulting in 11.6% overall growth. Considering that doesn't include the expected growth from 4Q 2021 in the numbers, that's quite impressive.
Dividend History
As a dividend growth investor, I aim to invest my savings into businesses that generate more cash flow through their operations that they can then send out to me in the form of dividends. The strategy just appealed to me because dividends, assuming the business is picked right, are more consistent on a year-to-year basis and easier to predict than the sentiment of the market over a short period of time.