Roper Technologies: Dividend Growth Investors Shouldn't Ignore This Small Yield
Roper Technologies (ROP) has transformed itself from an industrial focused conglomerate into higher quality and more predictable businesses. The transformation has led them to be heavily focused on software, analytical solutions, and process improvement.
The higher quality nature of this transition has come via higher margin, recurring revenues with little competition. While Roper does heavily employ an M&A strategy they've proven to be good stewards of shareholder capital.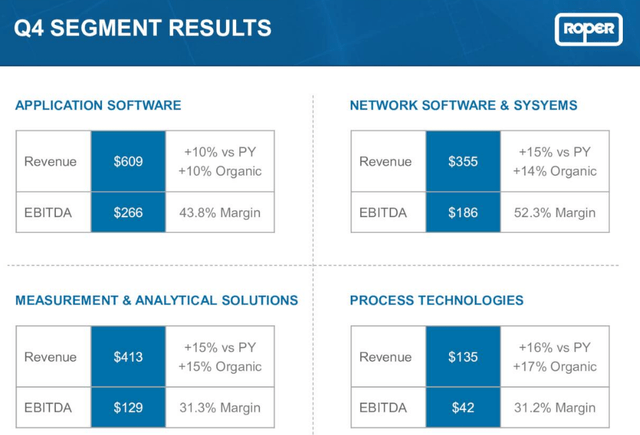 Those are some impressive results considering that 2021 was still a very trying year for many businesses.
Something I like about Roper and their varying business segments is that it's about improving their customers' operations and finding new ways to save them money.
Coming off a strong 4Q and full year 2021, Roper expects 2022 to be another good year for the business.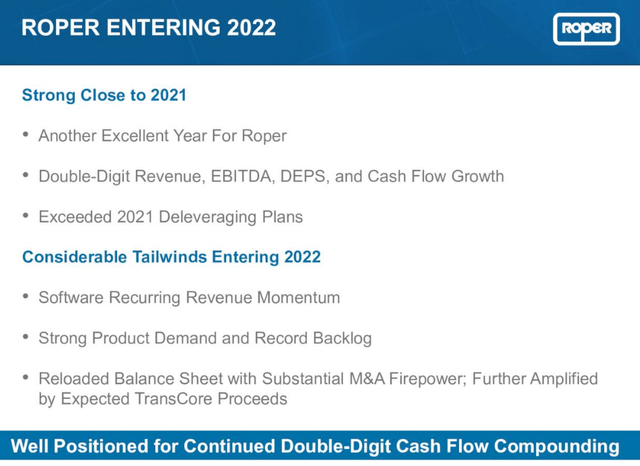 If Roper can deliver the results they are expecting for FY 2022 I'll be a more than happy shareholder.
Dividend History
The bulk of my investments are in dividend growth stocks. While my preference is for those "sweet spot" companies that offer an attractive current dividend yield with adequate annual dividend growth, I don't want to completely forgo the lower yielding, but higher growth potential businesses that are out there.