Danaher: A Much-Needed Pullback $DHR
Danaher (NYSE:DHR) is a giant in the healthcare space, specifically within the life sciences as well as testing and diagnostics. It also has a third segment that focuses on water quality and packaging materials.
Danaher is a very acquisitive business, with 10 acquisitions announced last year for more than $10 B. Occasionally, Danaher spins off segments and business units as well; their empire has grown.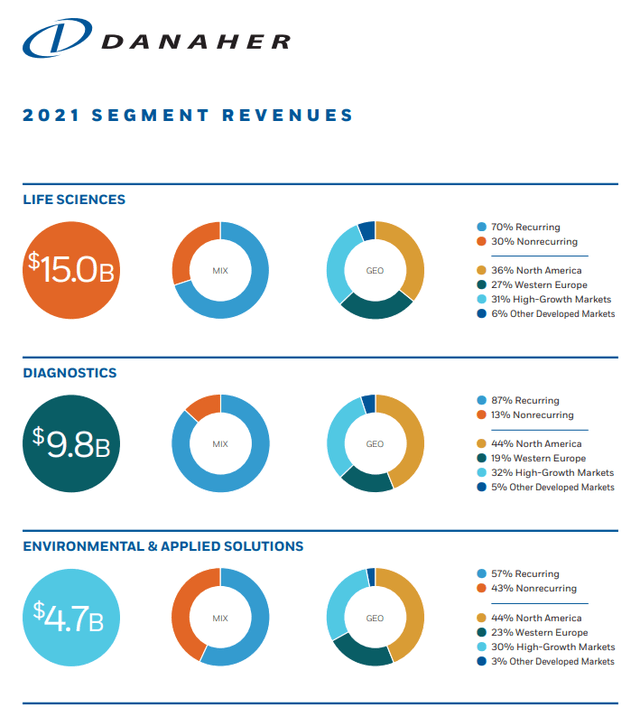 For 2021, Danaher has $29.5 B in revenue, of which they codify roughly 3/4ths as being recurring. Over 80% of Danaher's revenues for 2021 came from the life sciences and diagnostics segments. Those two segments are focused on the healthcare industry.
The life sciences segment provides highly specialized equipment, think mass spectrometers, centrifuges, microscopes and much more, that aids the pharmaceutical industry in their search for and manufacture of new compounds. Essentially, they are a powerhouse in the healthcare R&D spend budgets. Seventy percent of FY 2021's revenue was classified as recurring when counting consumables and servicing.
The diagnostics segment serves more of the frontline space for healthcare with pathology diagnostics, hematology, as well as instruments and other consumables for doctors' offices. This segment provided $9.8 B in revenue for FY 2021 with 87% of it being classified as recurring.