Pullback Brought Rockwell Automation Into A Reasonable Buy Zone $ROK
Rockwell Automation (NYSE:ROK) is a leader in the manufacturing automation space that employs a combination of both hardware and software options for their customers. Rockwell's solutions aim to make their customers more agile and resilient.
Rockwell is very diversified among industries with the largest exposure being food & beverage which accounted for roughly 20% of FY 2021's sales.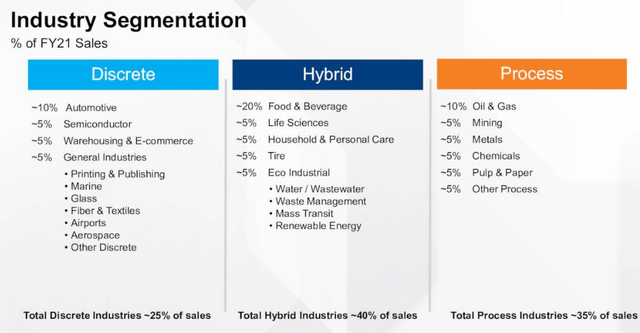 That diversification among end markets allows Rockwell to weather most economic storms well. As a handful of industries start to pull back, others can help pick up the slack.
A major benefit to Rockwell's business is that they intimately know the operations of their customers. That leads to high switching costs for their clients as they can't risk a full or even partial shutdown to their operations for a small incremental gain in costs or productivity. It also helps to lock-in their customers for the long-term.
As we've seen over the last two years, there's hardly any company that hasn't been affected by supply chain disruptions. Many companies are looking to combat that by on-shoring or re-shoring their manufacturing or just expanding their capabilities to different locales.
If that trend plays out, I would expect Rockwell to see a huge boost to their business as new factories are likely to be on the higher end of automation. Automation improves efficiencies as well as speed of the operations allowing businesses to be better equipped to face changing environments. That kind of transition takes time and could lead to a multi-year investment cycle from their customers.
Rockwell has been pushing into software solutions that can work in conjunction with their hardware. Expansion of the software solutions should come along with higher margins as well as more recurring revenue. ARR as of Q2 FY 2022 was up 50% with 17% being organic growth.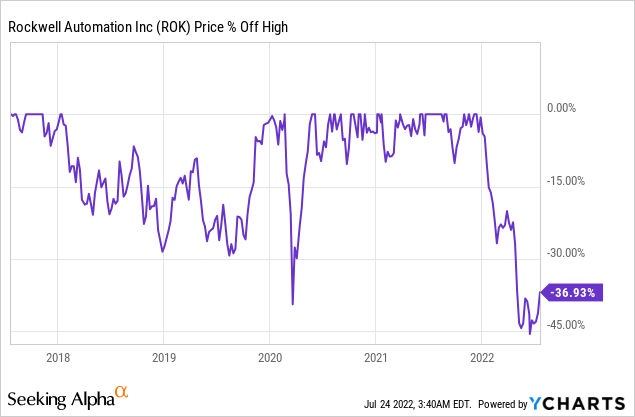 I'm always on the lookout for new potential investments. Rockwell's share price pulled back over 45% from its late 2021 high near $355, although it currently sits roughly 37% off that high after a rally over recent weeks. That large of a pullback piqued my interest into looking deeper at the business.