A. O. Smith: As The Share Price Cools, The Stocks' Attractiveness Heats Up $AOS
A. O. Smith (NYSE:
AOS
) manufactures and markets water heaters, boilers, and various water treatment products to both commercial and residential customers. Revenues are primarily generated in the North American market which has accounted between 70.9% and 74.8% of net sales.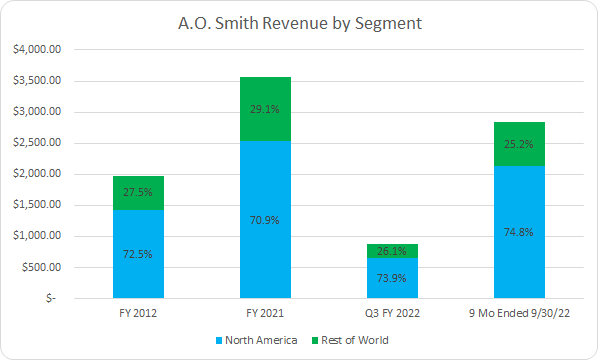 AOS Revenue by Segment Over Time (AOS SEC filings)




A. O. Smith's Rest of World segment is primarily generating revenues in China, Europe and India.





Prior to 2016, A. O. Smith stuck with their core water heater and boiler business; however, during that year they expanded into the water treatment market with their acquisition of Aquasana. They've continued to expand in that arena with additional bolt-on acquisitions in 2017, 2019, and 2021.





A. O. Smith has utilized acquisitions as a means to continue to improve their competitive position in their core water heater business as well as expand in additional lines as mentioned above. Additionally, in 2021 A. O. Smith acquired Giant Factories which further strengthened their residential and commercial water heater offerings in Canada.





Unfortunately, A. O. Smith does not break out their revenues by product line across both the North America and Rest of World operating segments. However, they do offer additional clarity on product line sales in North America.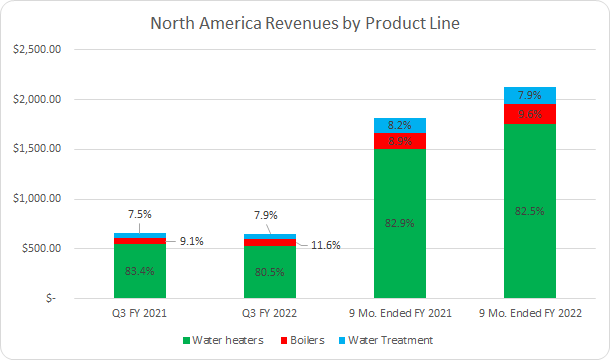 AOS North America Revenues by Product Line (AOS SEC filings)




Additionally they offer only a limited region based break out of revenues for the Rest of World segment.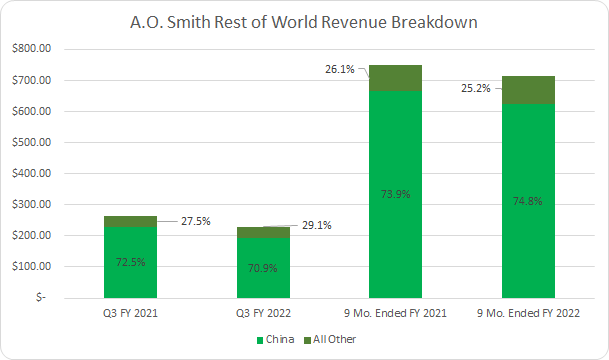 AOS Rest of World Revenue Breakout (AOS SEC filings)



Executive officers at A. O. Smith nearly universally have extensive backgrounds with A. O. Smith. The officers on average have been with A. O. Smith since 2004 which ranges from a history beginning as far back as 1989 to as recent as 2020.





A. O. Smith's products are such that customers largely can't put off buying. Despite the supposed benefits of cold showers, I wanted the option for one not for that to be the only option so when our water heater went out several years back we had to get it replaced. The same goes for boilers and home heating as that's not something I voluntarily want to go without.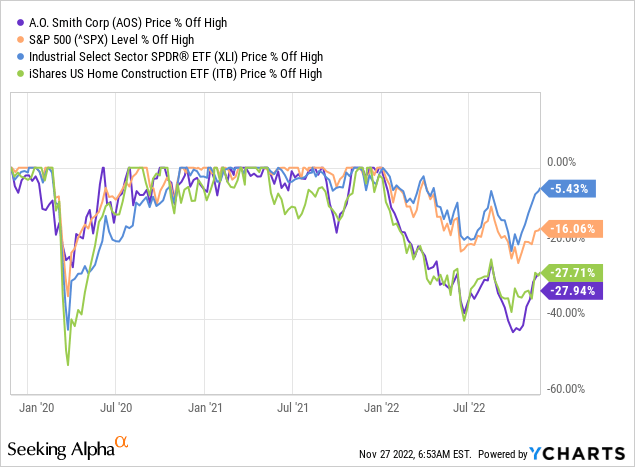 A. O. Smith's share price is currently mired in a 28% pullback from its highs. That's well below the S&P 500's performance at a 16% drawdown and the industrial sector, via (
XLI
), and it's 5% retreat. However, that's in line with the Home Construction ETF (
ITB
).
A 28% drawdown, that around 1.5 months ago was a >40% drawdown, piques my interest for a strong company such as A. O. Smith.
Continue reading this analysis on Seeking Alpha

Image Source