Pool Corporation: Thinking Of Dipping My Toes In The Water $POOL
Pool Corporation (NASDAQ:POOL) is the number one distributor of pool-related parts and products in the world. They also are much more than their namesake suggests after having expanded into related segments such as irrigation & landscape and outdoor living. In other words, if you have more than just a simple grass backyard Pool offers solutions to help you make the yard what you want.

Pool is largely focused on the United States market which generated around 90% of FY 2021's sales. Europe as well as Canada & Other International both accounted for 5%.

While Pool benefits from new builds, they generate the majority of their sales from repair and maintenance spend. The fact is that parts and other pool supplies will go out over time so Pool benefits from a large amount of recurring revenue.

Additionally, according to management their primary operating spaces are highly fragmented, which should allow for continued M&A. That M&A should help to further cement Pool's dominance in the pool-related parts of their business while also allowing for continued expansion into other segments of outdoor living.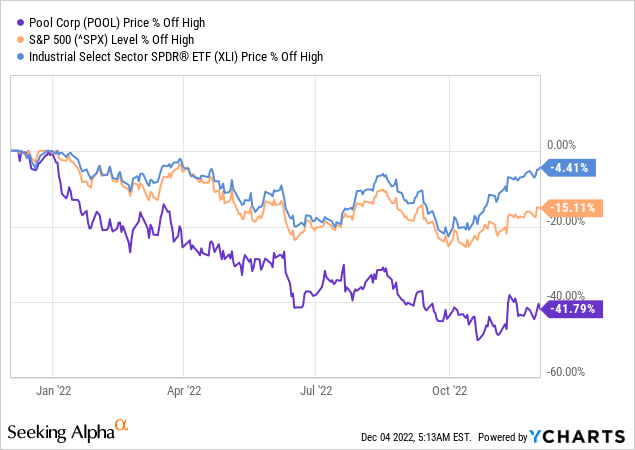 Pool's share price is mired in a significant decline that is currently over 41% over the last year. That's well below the S&P 500's 15% decline and the Industrial sector's 4% pullback.

Pool was a business that I didn't get introduced to until the pandemic; however, the business caught my attention. While I think it's safe to say at this point that there was a lot of froth in the share price heading into 2022, as evidenced by its underperformance; however, that decline has the business finally looking reasonably valued.

Continue reading this analysis on Seeking Alpha

Image Source