Watts Water Technologies: Keeps Your Water And Your Dividends Flowing $WTS
Watts Water Technologies (NYSE:WTS) designs and manufactures a variety of products and solutions related to the flow of water throughout both residential and commercial buildings.

Geographically, Watts is focused primarily on the Americas and Europe. Additionally, just over 1/3 of sales are related to new construction projects with 2/3 coming from repair and upgrades.

WTS Revenue Breakdown (WTS Investor Presentation November 2022)
Watts provides water related solutions for just about any need of modern society. The fact is everyone needs water and avoiding waste and leakage is a critical task in a world that constantly needs clean and safe water. Their primary focus is on safety, energy efficiency and water conservation.

Watts has historically used M&A to continue to build out their offerings for customers as well as to expand into new geographic or end markets.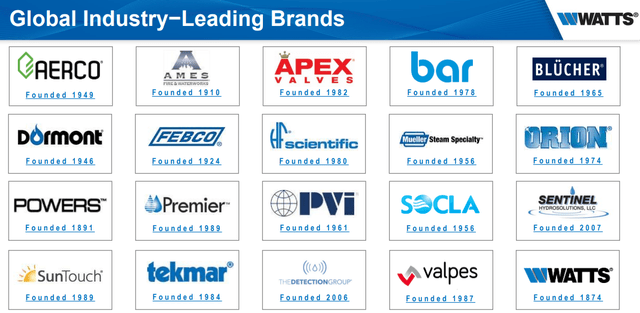 WTS Brands (WTS Investor Presentation November 2022)
Watts has spent much of the prior decade on debt reduction and operational efficiency. One such improvement was the One Flow residential products assembly that improved lead times from 28 days in 2019 to just 5 days in 2021. Keep in mind that the majority of that gain came at a time when the global supply chain was under immense strain due to the pandemic.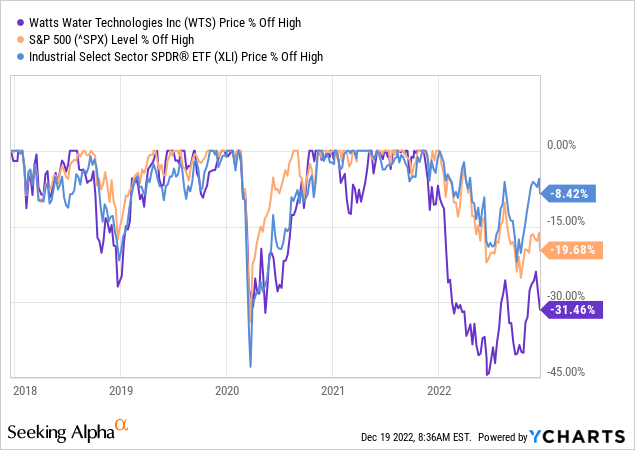 Watts' share price still sits >30% off its high from late 2021 while the Industrial Sector ETF (XLI) is only 8% off its high and the S&P 500 is nearly 20%. As we'll see later, I think Watts was arguably quite overvalued at this time last year and the decline in share price was much needed to re-align closer to the true value of the business.

Continue reading this analysis on Seeking Alpha

Image Source