Church & Dwight: A Staple For The Home And Your Portfolio
Consumer staple businesses have long been excellent investments. The most appealing part is the fact that their products are naturally consumed on a regular interval leading to repeat purchases. Even better is that once a purchasing habit is formed that product becomes ingrained in the customers' mind as the go-to brand for that specific product. In order to keep that customer the company primarily just has to not mess up rather than have some new innovation. They are those boring companies that just continue to compound value over time.
Church & Dwight (CHD) might not be as well known as some of its consumer staple brethren as Procter & Gamble (PG) (See Analysis Here), Clorox (CLX) (See Analysis Here) or Colgate-Palmolive (CL); however, it's one that I've had my eye on for several years now.
Church & Dwight's most well known brand is Arm & Hammer although they also have brands such as Trojan, Oxi Clean, Vitafusion, Waterpik as well as many others.
While the core business of Church & Dwight is a steady, albeit slow, grower they have utilized acquisitions to continue moving the company forward. In 2017 Church & Dwight acquired the Waterpik brand and in 2020 they purchased Matrixx Initiatives for their Zicam brand of zinc supplements.
Dividend History
I love getting paid to own the businesses in my portfolio. While a dividend isn't foolproof in determining whether a business is a high quality, it is a good starting point to help narrow down the potential investment candidates.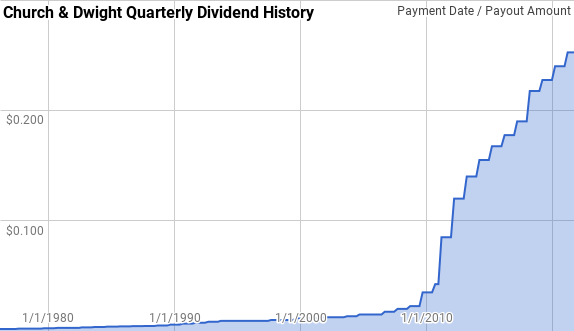 Image by author; data source Church & Dwight Investor Relations
According to the CCC list, Church & Dwight is a Dividend Champion with 25 consecutive years of dividend growth. Their streak of annual raises began in 1997 although they've paid the same or higher dividend since 1976. Annual raises took a two year hiatus in 1995 and 1996 but have carried on every year since.