Medtronic: A Fully Valued Dividend Champion
I'm very bullish on the healthcare sector and it's one that I want to increase my exposure to over time. The reasons being that it's a critical part of life and few people will put off a medically necessary procedure due to costs alone. The other being that the global population is aging and as we get older spending on healthcare increases significantly.
Medtronic (MDT) is positioned well to capitalize in the space with their leadership in cardiovascular, surgery, neuroscience and diabetes. All are critical to the care of patients.
Medtronic doesn't rely on its prior successes either and due to their scale they are able to spend plenty on R&D to enhance current product offerings as well as develop new products. That tremendous R&D budget is what allows management to have what they consider to be the best pipeline in the company's history.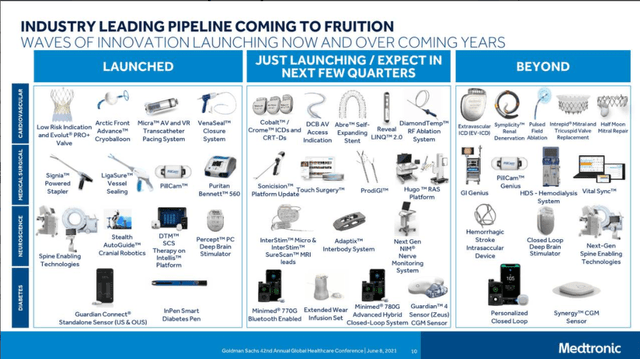 In the cutting edge medtech space Medtronic does rely on tuck-in M&A to continue to build out their offerings. In FY 2021 they announced 6 acquisitions for a total of ~$1.2 B and just last week Medtronic announced their planned acquisition of Intersect ENT (XENT). M&A can get a bad rap when it's done for empire building, but when done correctly and being able to make a leap in technology in a certain space when combined with Medtronic's R&D and salesforce can propel that product forward.
Medtronic also uses their scale to have minority investments that can lead to future tuck-in M&A as they know the product's capabilities well. They currently have 40+ minority investments.
Medtronic is a global player in the medtech space as well with ~51% of FY 2021's revenue coming from the United States, 33% from non-US developed markets and 16% from Emerging markets.
The medtech space is notoriously sticky for the doctors and surgeons that use Medtronic's devices. Doctors don't have the time to devote to learning a new system or product and it's given advantages/disadvantages which leads to doctors and hospitals typically staying a customer for extended periods of time. The potential benefits to switching to a new offering have to be step changes better for both the doctor and patients, not just incremental changes, in order to justify the time commitment and potential risk of errors.