Clorox: 20% Decline Still Isn't Enough
The Clorox Company (CLX) was a beneficiary of the COVID-19 pandemic with its array of cleaning products. That led to tremendous growth for Clorox in the 2nd half of FY 2020 and thus far in FY 2021.
When I looked at Clorox last year the valuation seemed incredibly stretched as the COVID trade took hold with shares trading around $228. Since then Clorox's share price is down 19% while the S&P 500 has risen 35%.
Dividend History
Dividend growth investing is a simple strategy to learn: look for quality companies with a history of paying and growing their dividends over time. The strategy appealed to me because it meant that I was going to typically be playing in a field of established businesses that generate plenty of cash flow that a portion of can then be returned to me.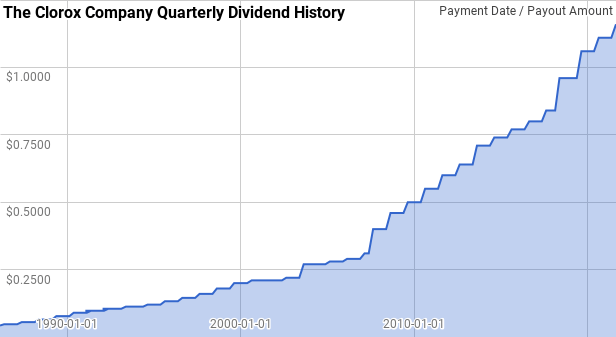 Image by author; data source The Clorox Company Investor Relations
According to the CCC list, Clorox has a 44-year streak of annual dividend raises.