Amphenol: Picks And Shovels Play On Nearly Every Industry
Amphenol (APH) provides electronic connections across a wide variety of end sectors. Their components, while inexpensive compared to their customers' end products or processes, are critical to insuring consistent connectivity and data transfer. Or as Amphenol refers to their interconnects as "Enabling the Electronics Revolution".
Amphenol's customers come from automotive, industrial, military, aerospace, mobile devices and networks, broadband connections, and IT data communications sectors. That's virtually all major sectors of the economy save for strictly service-based industries.
Their connectors and antennas are also on the forefront of many trends that are likely to continue. They are currently being utilized in electric vehicles, solar panels, cloud computing, 5G networks, artificial intelligence and many others.
During FY 2020, Amphenol's sales largely came from Asia, 46%, which should come as no surprise as the area is one of the largest manufacturing regions in the world.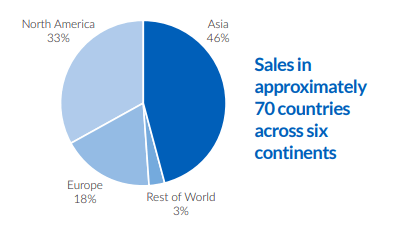 Amphenol utilized acquisitions with over 45 completed in the last 10 years ending in 2020. Amphenol considers themselves as the acquirer of choice for many of the smaller or more niche competitors which allows for plenty of bolt-on acquisition possibilities in a fragmented market.