Illinois Tool Works: Quality Industrial, But Valuation Is A Big Hurdle
Illinois Tool Works (NYSE:ITW) is a diversified industrial powerhouse with exposure to many segments of the economy. Their reporting segments are automotive, food equipment, test & measurement/electronics, welding, polymers & fluids, construction products, and specialty products.
Illinois Tool Works' revenue is fairly diversified with FY 2020 sales breakdown shown below.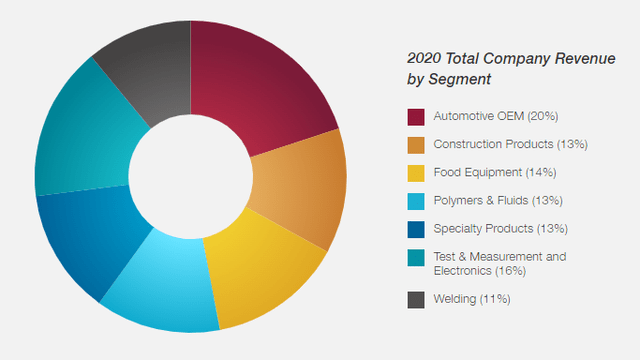 Illinois Tool Works has navigated the last 18 months well with their business strength continuing to shine. During the 3Q FY 2021 release, ITW showed 8% total revenue growth with 12% growth ex-automotive segment which has seen big disruption to the supply chain primarily due to the ever increasing demand of chips.
From a business standpoint, Illinois Tool Works is a company that I'd like to own. They have a globally as well as economically diverse business that allows for some sectors to struggle, while others pick up the slack as evidenced by 3Q FY 2021.