Kroger: Fairly Valued With A Clear Path To High-Single-Digit Or Low-Double-Digit Returns
Kroger (KR) is the largest supermarket chain in the United States. Walmart (NYSE:WMT) is still the elephant in the room; however, much of their sales come from outside of the grocery section. Kroger's size and scale advantage compared to smaller and more localized competitors allows them to push for more concessions or cheaper pricing from their suppliers.
Kroger's shares were down just over 18% in mid-October from its early September highs. After rebounding some shares are still 13% off its highs. For a stable and defensive business that I expect will be able to pass along inflation related costs due to their short inventory turnover time and essential grocery products that seems to be an over-reaction potentially providing investors an opportunity to add shares.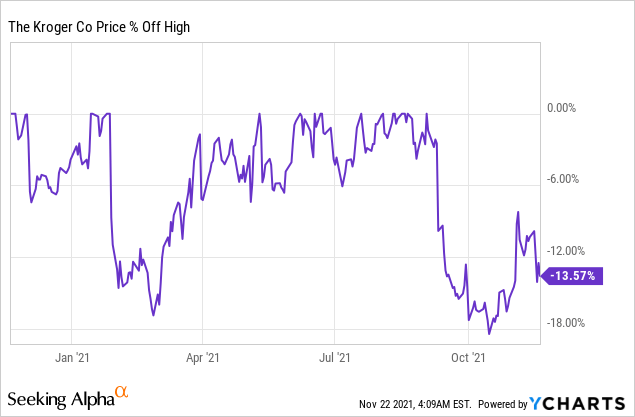 Dividend History
The beauty of adopting a dividend growth strategy is that dividends are always a positive source of return. Even if you pick the company right that continues to grow over time if the market environment is unduly pessimistic at the time, think March 2020, you could be forced to sell shares at inopportune prices if you're forced to liquidate for other needs.