Nike: Still Expensive, But Getting Better $NKE
Just about everyone, even those that aren't engrossed by sports, can tell you what that logo stands for. Nike (NYSE:NKE) has spent decades building its brand into the globally recognized and coveted brands for athletic closing and footwear.
Nike's share price has languished since topping out in November and shares are now down over 20% compared to the S&P 500's 8% decline. That kind of underperformance piqued my interest to see if it might finally be time to add to my position in Nike.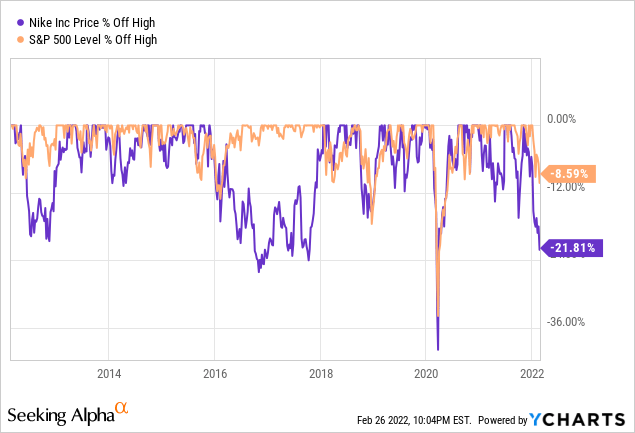 Nike's business is primarily protected by its brand strength that has been built over the years and of course performance of their goods. As a consumer-facing company, that brand has to be reinforced primarily through advertising and in Nike's case, sponsoring well-known athletes. Their brand and partnerships with top athletes instill a belief in their customers that the Nike brand will help that weekend warrior athlete to perform even better.
Dividend History
The dividend growth strategy is the one that appealed most to me when I first began investing several years ago. The strategy is simple: find good businesses that generate plenty of cash that they can then send to you as a part owner in said business.