Eaton Corporation: Powering Your Portfolio And Global Business $ETN
Eaton (NYSE:
ETN
) is a diversified industrial giant that focuses on various electrical components and power management. Eaton offers wide ranging solutions that serves end markets ranging from residential, industrial facilities, machinery, data centers and cloud infrastructure, utilities, military and commercial aerospace, as well as ICE and electric vehicles.
Eaton's solutions allow their customers to manage power and electric delivery. Eaton provides both the raw goods, such as various wiring devices, circuit protection, sensors, valves and other power delivery hardware as well as software solutions that allow customers to manage and monitor efficiencies in their systems.
While Eaton is diversified across end markets, they are also geographically diversified with customers from 170 countries around the world.
Eaton employs a heavy dose of both M&A activity to continue to push the company forward. Throughout FY 2021 and FY 2022 there's been 7 acquisitions as well as the divestiture of their hydraulics segment.
Dividend History
As a dividend growth investor, I seek out companies that have a history of both paying and growing their dividend over time. A rising dividend is one of the best signs that management of the business expects the business to continue to execute.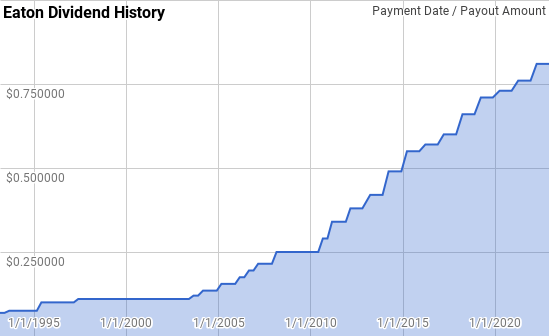 ETN Dividend History (ETN Investor Relations)



Eaton is a Dividend Contender with 13 consecutive years of dividend growth. Eaton's dividend growth history has been lumpy and intermittent at times with a pause in dividend growth in 2009 as well as from 1999 through 2002. However, over time, Eaton has rewarded shareholders with raises.



Continue reading this analysis on Seeking Alpha