Genuine Parts Company: A Time Will Come To Buy This Dividend King $GPC
Genuine Parts Company (NYSE:
GPC
) is a global distributor of automotive and industrial replacement parts. Genuine Parts started back in 1928 and has since grown into the global giant that it is today which operates in 17 different countries. Genuine Parts has a truly global distribution network with operations covering North America, Europe, and Australasia.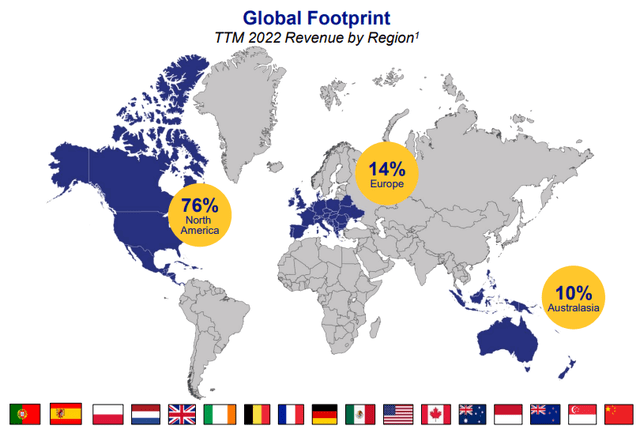 GPC Revenue by Region (Q3 FY 2022 Earnings Presentation)




North America is by far the largest region in terms of revenue with 76% of the TTM revenue coming from those markets. Europe accounted for 14% of sales over that period with Australasia making up the remaining 10%.





Genuine Parts' growth over time has led them to 800 warehouses, with 200 distribution facilities, and nearly 9,600 retail locations.





The automotive segment still makes up nearly 2/3 of Genuine Parts' revenue; however, through continued acquisition and expansion Genuine Parts' industrial segment has grown to just over 1/3 of sales.





Genuine Parts employs an acquisition heavy business model to expand their footprint. The most recent being Kaman Distribution Group completed earlier this year which further expanded their offerings primarily in the United States. The KDG acquisition improved their footprint with power transmission, automation, and fluid power parts distribution.





In addition to selling replacement parts to the everyday DIY consumer, Genuine Parts also serves what they call the DIFM, do it for me, market which consists of local, regional and national repair centers. With the DIFM segment Genuine Parts also offers inventory management and cataloging to ensure that the parts that are needed are available. The automotive parts segment has grown into the large automotive parts network globally.





The industrial parts group operates in both North America and Australasia in much the same way as the automotive segment as a distributor of consumable/replacement parts and tools. Providing parts sourced from over 170,000 OEM and MRO, maintenance, repair and operation customers.





Their customers are extremely diversified through end markets with exposure to food and beverage, mining, oil and gas, pharmaceuticals and many more where they have access to over over 12 million products. Genuine Parts also offer inventory management systems as well as asset repair and tracking services.





Genuine Parts is kind of like the consumer staples for anything that moves in that they source and provide replacement parts for automotive and industrial uses.





Both the automotive and industrial segments are very much the same at their core with the primary difference being the industrial segment does not have the everyday consumer facing retail. However, the bulk of the business between the two are the same and allows for Genuine Parts to implement ideas borne out of one segment easily into the other.




Continue reading this analysis on Seeking Alpha



Image Source