Flowers Foods: Stable Business, But Returns Look Stale $FLO
Flowers Foods (NYSE:FLO) is the second largest U.S. producer of packaged bakery goods such as breads, tortillas, rolls, buns, and snack cakes. They produce and distribute recognizable brands such as Nature's Own, Dave's Killer Bread, and Wonder bread.

Flowers has been able to pass along inflationary costs as their core business is related to bread which isn't something too many people are willing to give up. In Q2 they saw sales increase 11.0% compared to Q2 FY 2021 with price/mix being +14.4% with volume down 3.4%. The first half of FY 2022 shows similar results as well with total sales up 10.6% with a +13.9% pricing/mix contribution but a 3.3% volume decline.

Walmart/Sam's Club (WMT) does represent over 20% of sales introducing some customer concentration risk; however, given the products that Flowers provides, namely bread, it's not that concerning.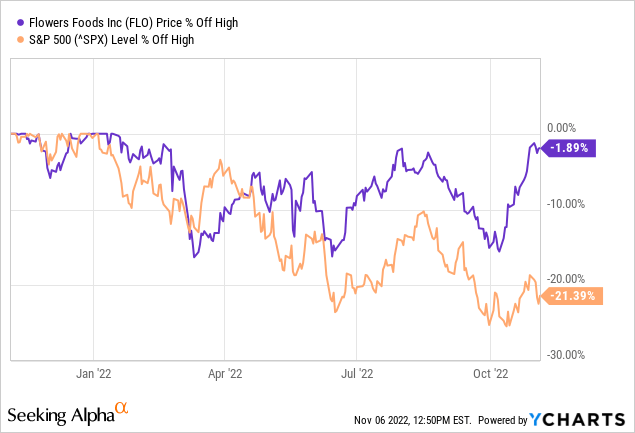 Data by YCharts

Flowers' share price is surprisingly only around 2.0% off its high reached earlier this year compared to the S&P 500's 21%+ drawdown. As investors sought out stable businesses such as the consumer staples, Flowers has thus far been a safe haven for investors.

Continue reading this analysis on Seeking Alpha
Image Source