Colgate-Palmolive: Quality At A Fair Value With A Potential Uptick In Growth
Consumer staples businesses are great due to their typically low cost products that are used regularly and lead to repeat purchases month after month. Companies that can successfully build their brand have benefitted greatly from those recurring purchases. Colgate-Palmolive (CL) is no stranger to dividend growth investors or consumers as just about every household in the US has at least some of their products in their house.
Colgate-Palmolive has their namesake Colgate brand of oral care products as well as the Palmolive brand of dish soap; however, there's much more to this company than just those two brands. They also have brands such as Ajax and Fabuloso in the home care division, and the sizable Hills pet nutrition division with their Science Diet offering of pet foods.
Dividend History
Dividend growth investing is the investment strategy that just kind of clicked for me when I began my investment journey over a decade ago. The strategy is simple and straight-forward: find great businesses that have a history of paying and growing their dividends and purchase shares at a reasonable valuation.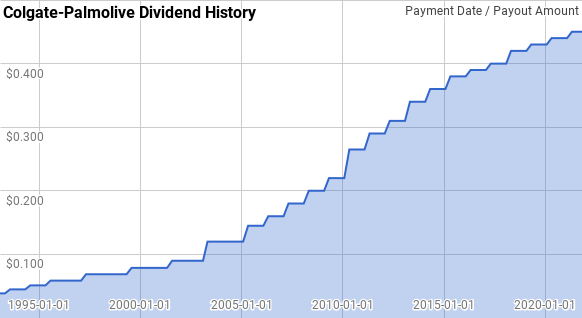 According to the CCC list, Colgate has grown their dividend payout for 58 consecutive years putting them in rare territory with just 15 other companies with an active streak at least 58 years long.