J. M. Smucker: Heads You Win, Tails You Don't Lose Much
Consumer staples can be found all over the list of companies with lengthy dividend growth histories. They were in a prime position to use their brand power to establish dominant positions within their respective niches and J. M. Smucker (NYSE:SJM) is no exception.
Smucker has transformed itself over the years after its humble beginnings of homemade cider and apple butter being sold from a horse-drawn wagon to now a leader in the jam/jellies space as well as ice cream toppings. Smucker also has the Uncrustables brand of ready-to-eat peanut butter and jelly sandwiches, which speaking from experience kids love, as well as the JIF brand of peanut butter.
Smucker also acquired Big Heart Pet Brands, expanding their offerings into the faster-growing pet food and treats space. In 2018, Smucker expanded further into the pet food business by acquiring Ainsworth Pet Nutrition.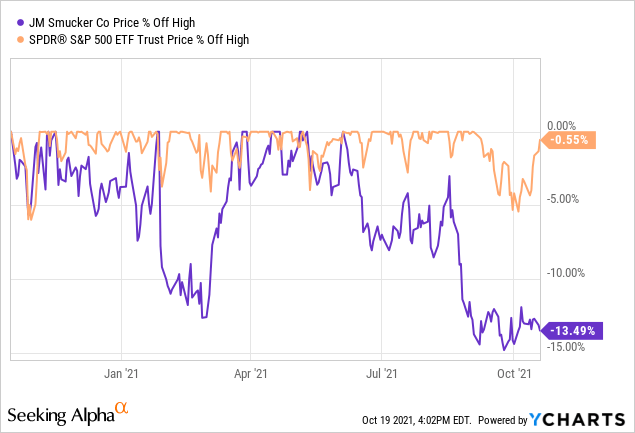 Smucker has lagged well behind the S&P 500, via the SPDR S&P 500 ETF (NYSEARCA:SPY) and is down over 13% from recent highs while SPY is near the ATH. That underperformance at least piques my attention to see if there's a potential investment opportunity.