Sysco: COVID Knocked Them Down, But They're Not Out
Sysco (SYY) has a leadership position in the food distribution sector and I'm sure most people have seen their trucks driving around. Sysco works behind the scenes for restaurants, hospitals, hotels, schools and other businesses that need large quantities of food to run.
Sysco was hit especially hard by the lockdowns enacted to help prevent the spread of COVID as pretty much all of their customers were affected or forced to operate at reduced capacity. That has cleared up as the vaccination rate increases and more places are fully re-opened and Sysco's 4Q 2021 results, ending in June, bear that out.
Dividend History
One of the things that attracted me to the dividend growth investing strategy is that you are generating cash flow from those investments just by owning them. Another is that dividends more reliable and consistent than capital gains. For most companies with a lengthy dividend growth streak I can be fairly certain that they will pay out the same or higher dividend over the next year versus the prior year. While I expect the share price to track the business fundamentals over time, it can vary significantly over shorter periods due to emotions.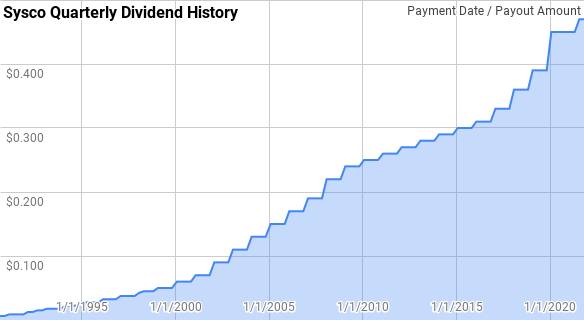 Image Source: Author; Data Source: Sysco Investor Relations
According to the CCC list, Sysco has increased their annual payout for 51 consecutive years which dates back to 1970. That's an incredible achievement considering all that's happened over that time that was going to wreck the economy or the various geopolitical tensions that have occurred.