Nasdaq: Making Money From Trading Activity $NDAQ
Nasdaq (NASDAQ:NDAQ) is primarily known as a stock exchange company owning three exchanges in the United States, the eponymous Nasdaq as well as the Philadelphia and Boston Stock Exchanges. Nasdaq also owns several stock exchanges across Europe.
While Nasdaq obviously benefits from increased activity and interest in trading listings on their exchanges; Nasdaq is far from just an exchange operator. One of the benefits that Nasdaq gets to reap is all the data they are able to collect and sell to clients via data packages as well as various services and analytics.
Those data packages, services and analytics are very sticky revenue streams for Nasdaq which are now running at a $1.914 B annual run rate as of Q1 FY 2022.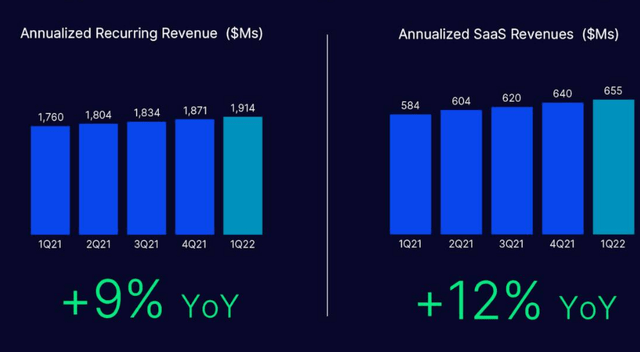 With Nasdaq's shares falling over 20% YTD it was time to take a look at how Nasdaq has performed as a business and to see if the valuation makes sense at this time.
Dividend History
I prefer to invest in businesses that have started returning cash to shareholders. One reason for that is that it typically means the business is generating plenty of cash from its operations which it can easily afford to send out to equity owners. Also using the dividend history as a screening tool helps to narrow down the universe of potential investment candidates.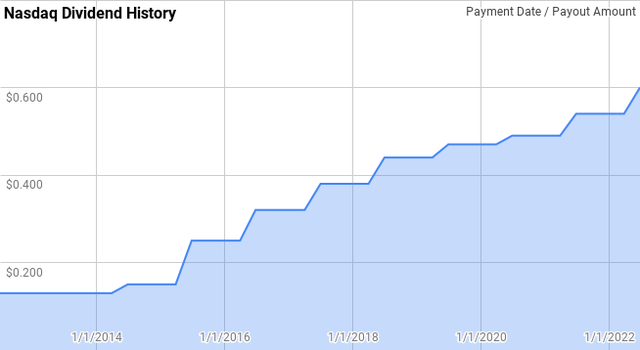 Nasdaq is a Dividend Contender with their dividend growth streak up to 10 years now. After recently announcing an 11% raise earlier this month they are on track to easily push that up to 11 years once 2022 completes.