Stryker: Innovation And Acquisition $SYK
Stryker (NYSE:SYK) is a leader in the innovative med-tech space that helps to advance healthcare solutions across a variety of ailments. Stryker specializes in all major joints, robotic surgery, neurological and spinal, surgical equipment, trauma and emergency services, and many more.
Stryker is able to generate plenty of recurring revenue through its relationships with hospitals and surgeons. Once surgeons, doctors, nurses and other staff are trained on specific equipment there becomes a very real opportunity cost for switching to similar equipment because the risk of an operational error due to the differences between equipment is too great.
Stryker has also fared better than the med-tech sector in general besting the sector in terms of organic revenue growth in each of the last three years. Fiscal year 2020 was especially hard on Stryker which does deal with a lot of more elective procedures which were pushed in all but the most extreme cases due to the unknowns during the depths of the pandemic. Although their trauma and emergency segments helped to offset the lost revenue from many of the deferred procedures.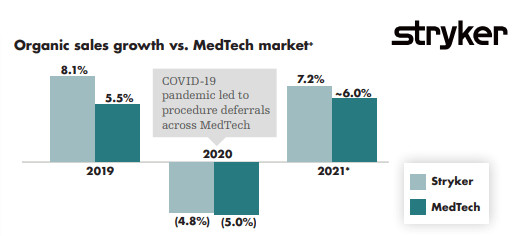 Stryker is heavily dependent on the domestic market with the United States providing 72% of 2021's sales. The International/Developed region provided 21% with Emerging Markets accounting for the remaining 7%.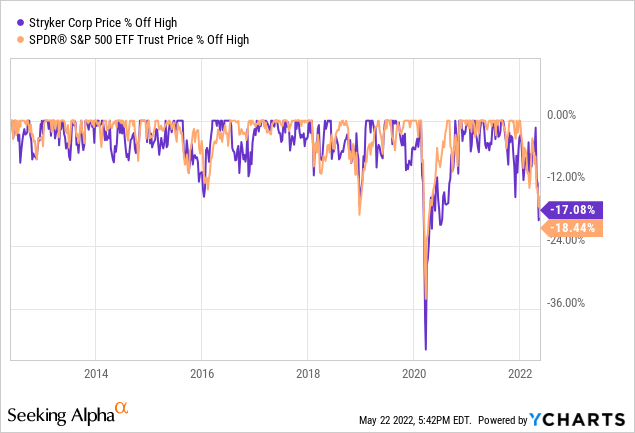 Along with the rest of the market Stryker has seen its share price retreat from its highs and is currently off by ~17% and is in the second largest drawdown of the last decade.
I wanted to take a deeper look at Stryker with shares pulling back in line with the market and a sector that I expect to continue to show above average growth.