Accenture: A Potential Recession Beneficiary $ACN

Accenture plc (NYSE:ACN) is a powerhouse in helping other businesses improve efficiencies and profitability. They primarily operate through IT consulting and outsourcing by offering their suites of IT solutions that make other businesses better.

Accenture has an impressive track record of continuing to provide solutions for their clients as evidenced by 98 of their top 100 clients having a relationship greater than 10 years.

Their client relationships are forged and strengthened during tough times for the customer businesses. As a go-to solutions provider of consulting, strategy, and IT solutions Accenture is poised to benefit as more companies look to "digitize" and look for opportunities to be more efficient in their own operations.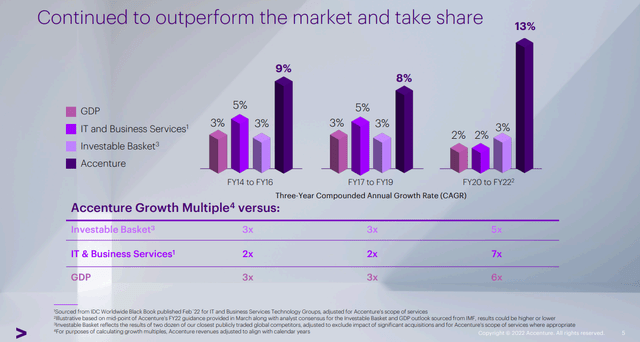 ACN Investor Conference Slides Apr 2022 Market Share (ACN Investor Conference Slides Apr 2022)



According to Accenture's investor conference slides from April, Accenture has continued to show strong growth compared to GDP, the IT and Business Services group, as well as an Investable basket consisting of two dozen of their publicly traded peers.





Accenture's solutions spread into just about every sector of the economy from utilities, life sciences, industrials, insurance, healthcare, banking and capital markets, consumer goods, and much more.





Accenture does run a very acquisition-heavy business model with 34 completed in FY 2020, 46 in FY 2021, and 21 through the first half of FY 2022. That introduces its own risk primarily through integration issues; however, Accenture is more of a solutions acquirer that consolidates offerings that clients would need and in turn provides better services and improves the relationships. As a one-stop shop for consulting or IT, it's much easier and attractive for clients, and potential clients, to choose Accenture as they don't have to additionally deal with integration issues between the services of two different companies.



Continue reading this analysis on Seeking Alpha

Image Source