Waste Management: Trash Is Cash $WM
Waste Management (NYSE:WM) is the largest waste collection and disposal operator with dominant positions in the United States and Canada. Waste Management focuses on large urban/suburban areas where they can display dominance by utilizing their landfills, transfer and recycling facilities from their 15,500 collection routes.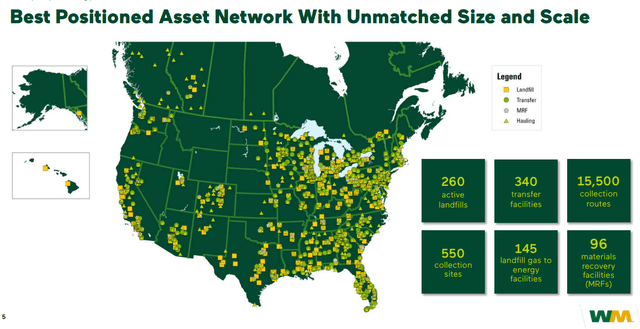 Waste Management has a diverse revenue mix including commercial, industrial, and residential waste collection. Waste Management also owns 260 active landfills where they are able to charge other waste collection companies fees to access those landfills. The landfills have a huge NIMBY moat around them as you'd be hard pressed to find people that are clamoring for a new one for the sake of competition.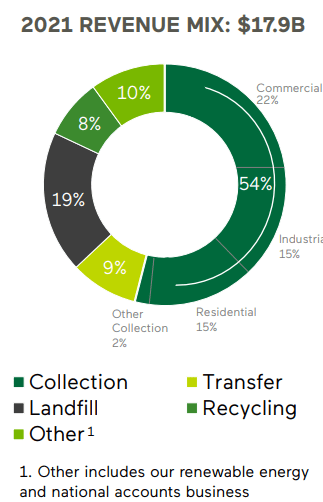 Waste Management also has roughly 75% of revenue that is recurring and stable from year to year. Especially on the collection side as many people don't have an option as the area is serviced by likely just one localized monopoly for collection and disposal.
I'm quite intrigued by the LFG and RNG projects in which Waste Management is able to generate energy from the decomposition of materials in their landfills. It's another revenue source that's layered on top of an existing landfill asset. If the project return forecasts are met then new RNG plants can offer ~$400 M in additional annual EBITDA from ~$825 M in total capex spend.
Waste Management is a wonderful business that I believe should continue to do well in the future. The question of course comes down to whether the valuation makes sense at this time to purchase shares.
Dividend History
The majority of my investments are based on the dividend growth investment strategy. That means that I want to find quality businesses that have a history of paying and growing their dividend over time. The hard part is being patient enough to buy when the valuation is reasonable and then just let the business work its magic over time.