Honeywell: A Fair Price For Quality $HON
Honeywell (NASDAQ:HON) is an industrial conglomerate with operations that span several portions of the economy through its 4 operating segments. The Aerospace segment serves both commercial, defense and space opportunities.
Meanwhile the Building Technologies segment offers a combination of software and hardware that allows clients to run their buildings, warehouses, factories, etc. more efficiently from a power standpoint i.e. energy management, while also tracking installation, maintenance, and upgrades to systems.
The Performance Materials Technologies segment offers automation instrumentation and control and well as specialized materials and reactants for across a wide variety of end markets including computer chips and healthcare.
The Safety and Productivity Solutions segment offers personal protective equipment, warehouse automation equipment and software as well as custom-engineered sensors and switches.
| | | |
| --- | --- | --- |
| Segment | 2Q FY 2022 Sales, $ MM | Percentage of Sales |
| Aerospace | $ 2,898.00 | 32% |
| Building Technologies | $ 1,531.00 | 17% |
| Performance Materials | $ 2,694.00 | 30% |
| Safety and Productivity Solutions | $ 1,829.00 | 20% |
Honeywell's share price currently sits ~20% off its high reached just over one year ago. However, before the market turned back higher in June shares were lower by around 28%.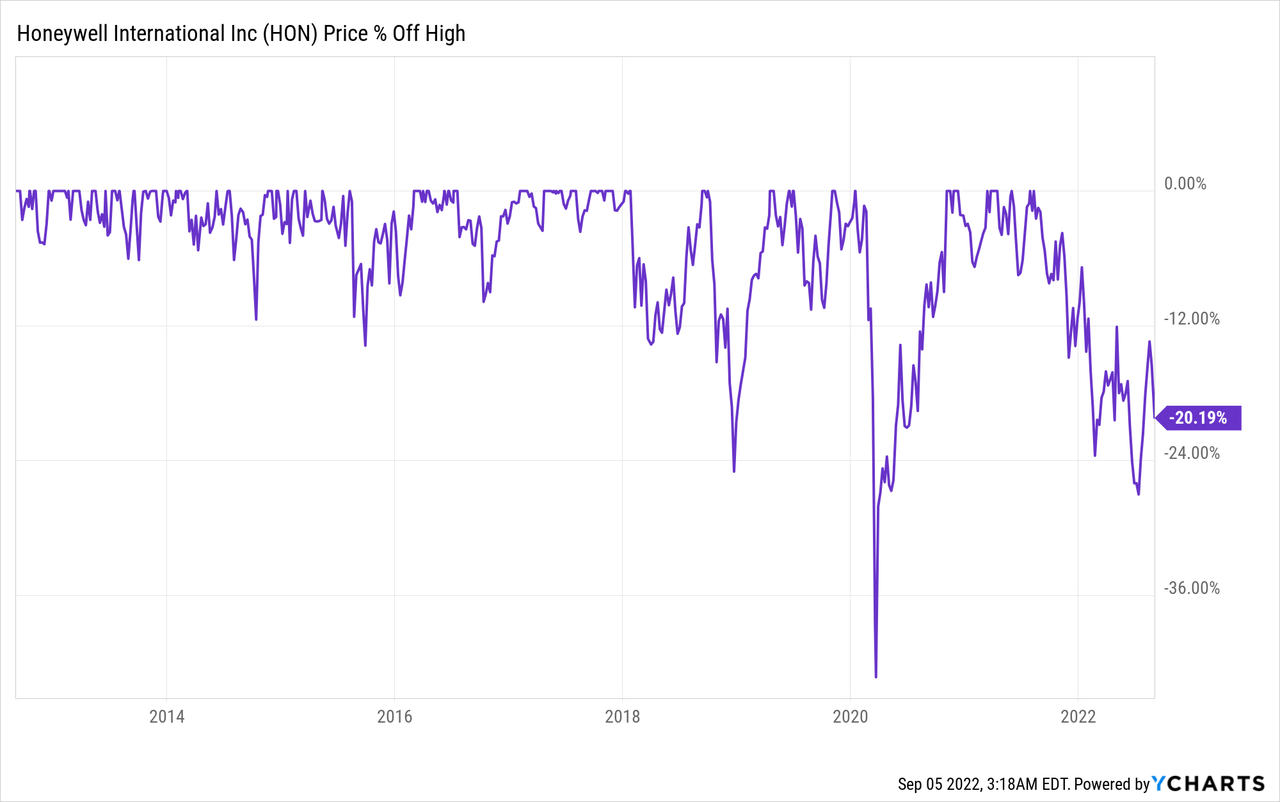 Honeywell's share price decline has opened me up to the idea of adding a stake in this 100+ year old company that has proven itself through innovation and reinvention over time.
Dividend History
There's nothing quite like a dividend payment, and a rising one at that, that says a business is doing better and wants to reward its shareholders. That's why the dividend growth strategy is the one that I gravitated towards when I began investing into individual companies. I mean who doesn't like receiving cold, hard cash, well more like some bits and bytes now that almost everything is digitized, every three months as a thank you for owning a stake in a business?