Hormel Foods: A Defensive Business For A Frothy Market
Hormel Foods (HRL) is probably best known for their SPAM brand of canned meat. However, over the last decade, Hormel has been adding on several whole food and healthier snacking and food options to their portfolio - brands include Justin's Nut Butter, Applegate, Wholly Guacamole, and the recently announced Planters brand that is being purchased from Kraft Heinz (KHC).
These acquisitions and brand extensions have transformed Hormel into one of the leaders in the healthier food and snack business. The transformation from a primarily commodity-driven and meat-focused business into the current iteration of Hormel has proven successful thus far. One of the interesting things with Hormel is that 15% of revenues are derived from brands or products launched within the last 5 years.
Dividend History
The dividend growth strategy is a very straightforward investing approach based on identifying quality businesses that have a history of paying and growing their dividends over time and, most importantly, that have the ability to continue growing them in the future.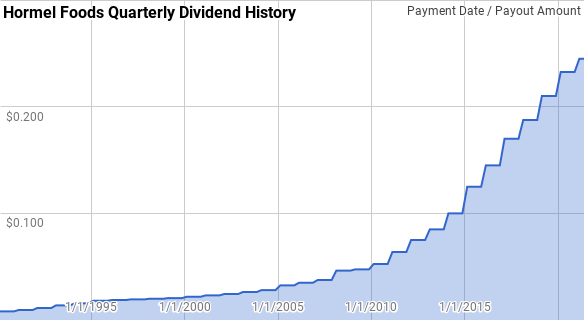 Image by author; data source Hormel Foods Investor Relations
Hormel has grown their annual dividend payout for 54 consecutive years which is a truly impressive feat. There are only 16 companies in the CCC list that have longer streaks than what Hormel has amassed. That's every year since 1967 and through just about every kind of economic environment and various times of geopolitical stability and instability.