Amphenol: Riding The Wave Of Global Connectivity $APH

Amphenol (NYSE:APH) is a global leader that provides electrical connections and sensors that power the modern way of life. Amphenol's customers reach into just about every end market/industry imaginable. From aerospace, military, industrial, automotive that have longer product cycles to mobile devices, networking, broadband, and IT which has shorter cycles. Amphenol is one of those boring businesses that can ride the wave of many end markets as just about everything is becoming connected and electrified.

During FY 2021 only around 1/3 of sales came from North America with nearly half coming from Asia. As such FX changes can and will play a role in their underlying results.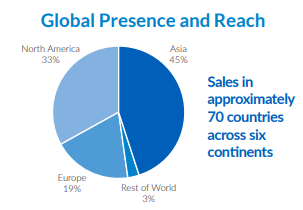 APH FY 2021 Revenue by Region (APH FY 2021 Annual Report)

Amphenol also makes critical components for their customers; however, those individual components are typically cheap compared to the overall costs their customers bare to make their own products. The low cost and critical nature of their connections allows Amphenol to have relatively strong pricing power.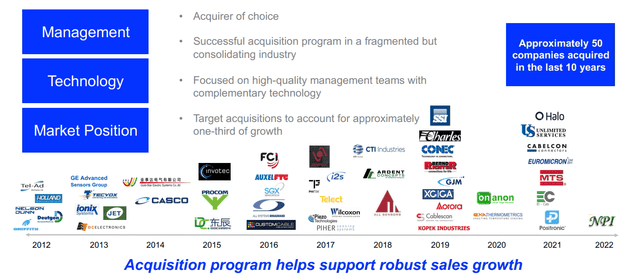 APH Acquisitions Evercore Conference Presentation (APH Acquisitions Evercore Conference Presentation sept 2022)
Amphenol does employ acquisitions with 50 being completed over the last decade and 7 in 2021. Amphenol tends to leave the businesses alone once they are acquired while integrating the raw material sourcing, lower cost manufacturing and sharing customer contacts.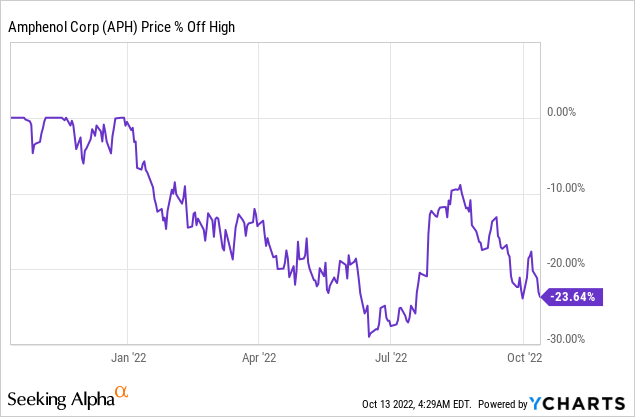 Amphenol's share price has fallen over 23% from its high reached in late 2021, although it still sits about its June lows. That kind of decline in a quality business prompted me to take another look to see where the valuation stands.
Continue reading this analysis on Seeking Alpha
Image Source