Cboe Global Markets: Fairly Valued And Rewarding Shareholders $CBOE

Cboe Global Markets (BATS:CBOE) is a diversified mainstay in financial markets across the globe. CBOE operates in 6 segments:

Options - includes index, equity, and ETF options through various subsidiary exchanges

North America Equities - which includes transaction services for U.S. equity and ETFs.

Europe and Asia Pacific - includes the European listed equities and derivatives exchanges as well as various commodities.

Futures - offers proprietary market data, access services, as well as transaction services for VIX futures and other futures products

Global FX - offers FX trading services primarily for institutional clients as well as the licensing of proprietary market data

Digital - focuses on digital asset spot and futures markets.
CBOE is a truly diversified intermediary among both products which can be traded as well as global access. With the various acquisitions that have been completed, CBOE now has 26 markets/exchanges which they operate.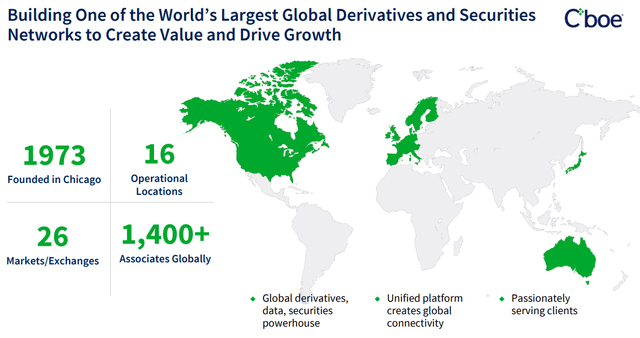 CBOE Global Diversification (CBOE Investor Presentation August 2022)




CBOE's share price has held up better than the general market thus far in 2022. CBOE currently sits around an 11% pullback compared to the S&P 500's 21% retreat.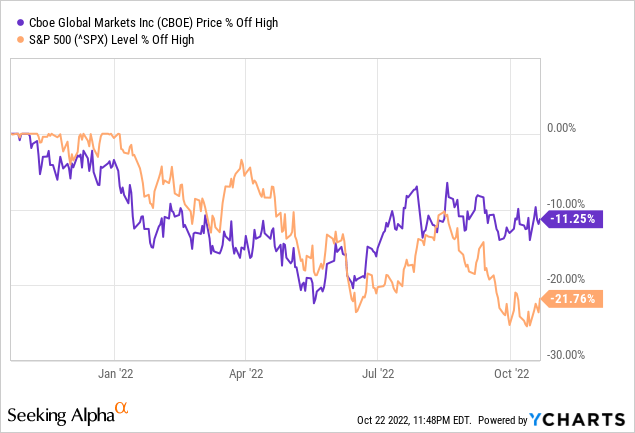 Data by YCharts


Dividend History



When I began investing in individual companies, I decided to primarily focus on dividend growth investing. In practice, I target a variety of different companies across the dividend growth spectrum: from low yielders but fast growers, to mid-yielders and mid-growers, and even some high yielders but slow growers. I believe this helps to give me a balance between income today as well as income tomorrow although I aim for most of my investments to be in the first two of the three subsets.



Continue reading this analysis on Seeking Alpha

Image Source