CME Group: Something Special This Way Comes $CME
CME Group (NASDAQ:
CME
) is owns and operates various futures markets globally including well known exchanges such as CBOT, NYMEX, COMEX and others. Name a commodity or other financial instrument and CME Group likely has a futures market that you can trade or hedge on. Things like interest rates, equity indexes, foreign exchange, agricultural commodities, energy, and metals.
Additionally, CME Group offers clearing and settlement services for their exchanges. CME Group also has access to plenty of data regarding historical pricing and can be sold in conjunction with risk mitigation services.
The various financial intermediary/markets businesses are some of my favorite. They need little in the way of additional capital investments while still being able to grow. Also, once a market becomes liquid enough that market becomes a de facto monopoly for that vehicle as investors and traders seek out liquidity.
In effect, CME Group makes its money through higher trading volumes. Over time and with the introduction of new trading vehicles CME Group should continue to benefit from higher activity and trading levels.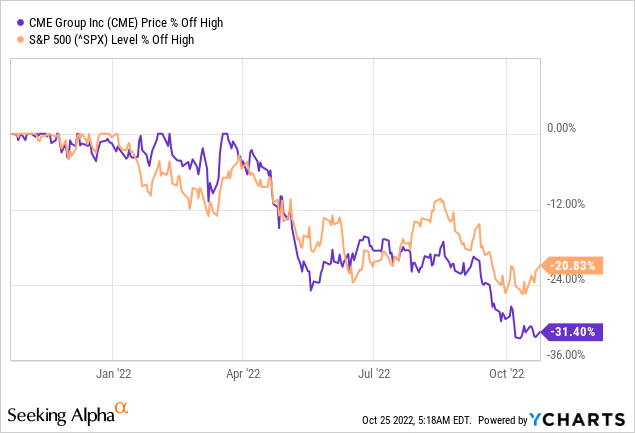 Data by YCharts



CME Group's shares are currently around 31% off their high from early January compared to the S&P 500's 21% pullback over that same time. The decline over that time was likely warranted as CME Group appeared quite expensive when I last examined the business. With the 31% pullback I wanted re-examine what I believe is a strong business to see if the valuation finally makes sense.
Dividend History
Dividend growth investing is the strategy that most appealed to me when I began investing my savings into individual companies. The strategy is simple in theory: find companies that have a history of paying and growing their dividend over time and that you believe will continue to do so and then don't pay too much to own a stake.
Continue reading this analysis on Seeking Alpha
Image Source