Concerned About Inflation? Consider Sysco $SYY
Over time Sysco (NYSE:
SYY
) has built its strong position in the food service industry and now holds a 17% share of a $300 B industry. Even better is that Sysco has been growing faster than their cohorts and expects to see accelerated growth versus their competitors over the coming years.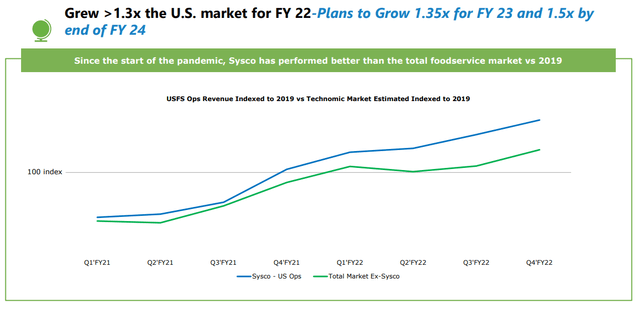 SYY Market Share (SYY FY 2022 10-K presentation)



Sysco is the largest global distributor of foods and other products for the food service industry and now has over 700,000 customer locations that they service. Their clients are other businesses and institutions such as restaurants, hospitals, school districts, hotel chains, sports stadiums, universities and much more.





Sysco has 4 operating segments: (1) US Foodservice, (2) SYGMA, (3) International, (4) Other. The US Foodservice segment is by far the largest in terms of sales which represented 70.7% of FY 2022 revenues. The next largest is International with 17.2% of FY 2022 revenues followed by SYGMA with 10.6%. The Other segment which primarily represents the hotel supply operations was the remaining 1.6% of FY 2022 sales.





Sysco has a global footprint although their operations are dominated by the US market. They also operate in Canada, Mexico, Central America, and the Caribbean as well as in Europe.





Sysco's scale, with an estimated 17% market share, gives them an advantage over competitors as they have the supplier and distribution network to service just about any customer anywhere in the world. Their customers are more concerned with Sysco's ability to give them what they need when they need it as such the relationship is more about execution rather than cost to keep the clients happy. Sysco's size allows them to fulfill the majority of their orders within 24 hours of order placement, as such Sysco does have to keep large amounts of inventory on hand.





As a distributor with quick asset/inventory turnover, Sysco is largely able to pass on inflation costs. Sysco passed through 15.0% inflation in the US segment which increased their revenues for the period.




Continue reading this article on Seeking Alpha



Image Source